Pak Lah's tenure as PM are numbered, character assassination for Eli. One gets a royal "send off" , the other got her privacy invaded. Such are the life of politicians.

During the opening of the 12th session of parliment, the King touched on AAB's tenure and further hope for a smooth transition of power comes 1st April 2009. Say what you want but the writings are now expressly written on the wall. Another final blow to whatever slim hopes of AAB clinging on to the premiership after March 2009. Huge bill boards or no, AAB needs to retire.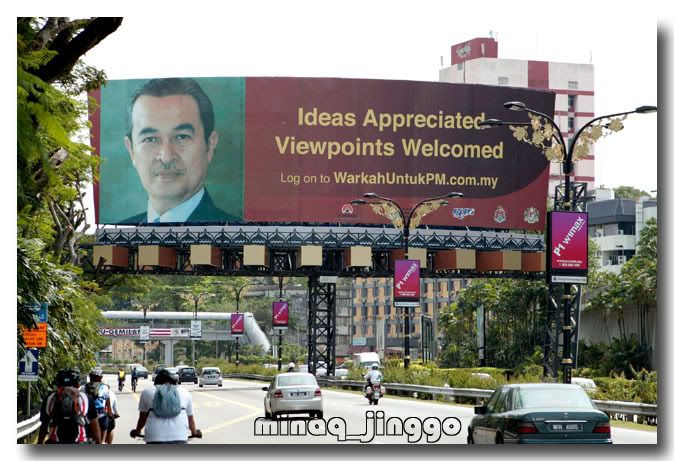 Is there any need to spend the money to erect the huge billboard at Jalan Syed Putra when AAB is going off next month? Is there any implicit message to those plying that particular route? The tagline "Ideas appreciated, viewpoints welcomed" is redundant now. It is as redundant as the tagline "Work with me" introduced during his first years as PM.


Another week, another headline. Elizabeth Wong, Selangor state EXCO lodge a police report pertaining to photos taken without her consent and which evidently touched on her modesty, first as a human being and second as a woman.

It is not whether she was in vulnerable position or about her moral values. This is pure blatant and calculated attempt to put her unnecessarily in the spotlight, for reasons best known to the person or persons who orchasterated the release of the said photos.

Amongst the first who attached her is Khir Toyo, the aspirant UMNO youth leader who seems to be in the thick of everything, from the attempted demonstration against Karpal Singh in Penang to the pledge of support for the Sultan of selangor's statement and now to the fore calling for Eli's resignation. But Khir Toyo forgets a few things which he needs to be reminded.

First, the photos currently circulated are not taken with her consent. Second, if Khir is trying to potray that all politicians must be morally squeeky clean, he must first clean his own house. He should be demanding for his party's top leadership, either current or future, to resign because of the PD public secret. Go for it first, Khir and I believe the whole nation will support you.

It is a matter of principle that we must respect people's privacy. It is traumatise enough for Eli to have her modesty invaded, but to capitalise on that issue is purely disgusting. Khir Toyo, and for that matter, all who now acts as goody two shoes, should first go self evaluate themselves before issuing more damaging statements - are you much better morally? You may not have your photographs taken in compromising positisions but can you swear that you have never been involved or participated in immoral activities? Clubbing perhaps?

Shouldn't politics be confined to governance? Think and be true to oneself...

Eli's offer to resign from both her EXCO post and state seats reflects her dedication to her constituents. And what PR did in advising her to go on leave whilst seeking HRH Selangor's royal guidance is highly commended. It shows that PR does not pre-judge Eli and at the same time seek HRH's views as her EXCO seat is up to the discretion of HRH meaning that HRH has a strong and deciding say regarding to her EXCO seat. If and when HRH so decided that she should vacate her EXCO eat then only she can offer to quit her Bukit Lanjang state seat. That, my friends, is politics 101.

Till then...G'nite M'sia...wherever u are...