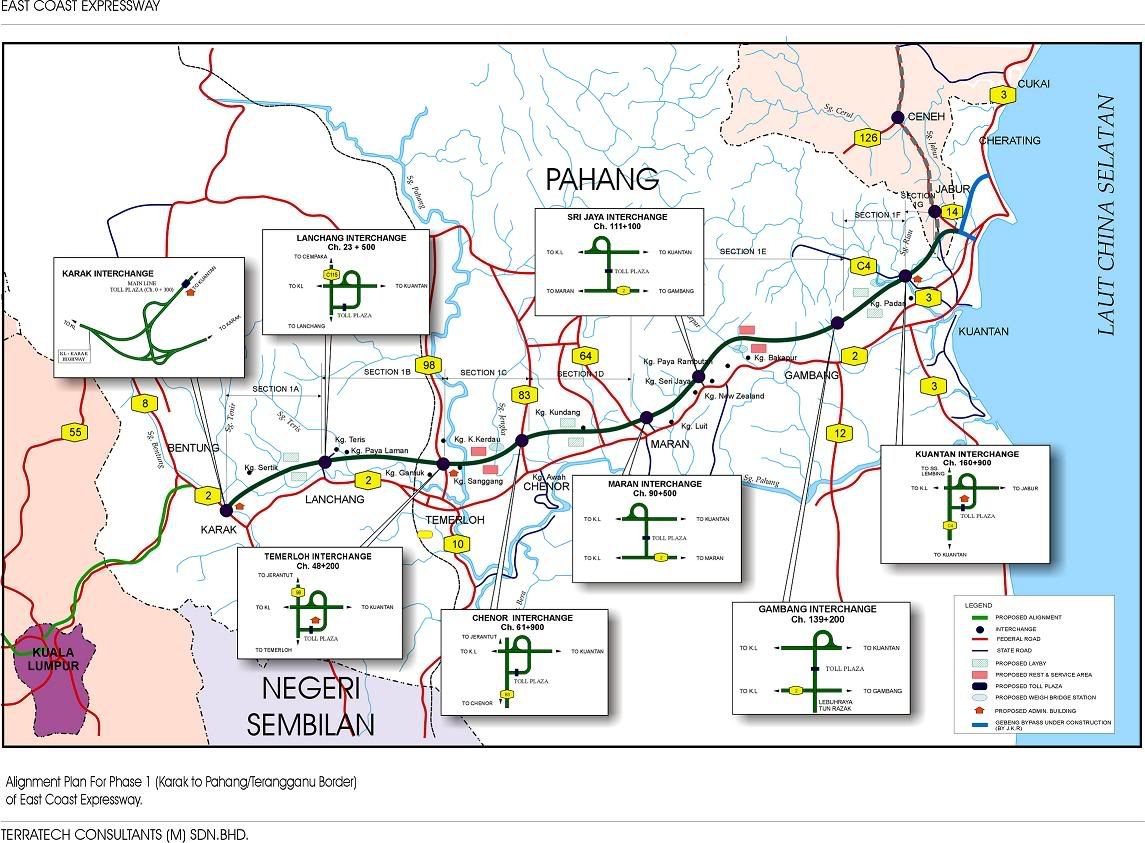 ECH stands for East Coast Highway. Mooted after the completion of NS highway, it is meant to shortened the travelling time from East coast to the west coast of peninsular Malaysia.
Since news are focussing on the monogamy, bigamy and polygamy of politicians and the yellow bloods, let us forget about them and see what ECH has in store for us.

Due to political differences, ECH stopped at Kuantan and only after BN re-capture Terengganu ECH phase 2 covering the Terengganu portion were launched where several Contractors were awarded to build the stretch of highway up to Chendering, Terengganu.
That was the good part. The increase in fuel price and steel reinforcement bars caught the Contractors off-guard. You see, in normal highway projects, fuel and steel is the main components because of massive earthworks (machineries need fuel) and bridges (they need reinforced bars to build bridges).
Although one can point out that fuel price is subjected to world price, the same cannot be said about our steel bars. Words spread that the reinforcement bar price were manipulated and controlled by selective few and big traders (read manufacturers/salesmen) demand extra money to deliver the bars. Maybe some Contractors are willing to vouch on this.
As a direct result of unexpected shortage and price increase, ECH Contractors were caught with their pants down. It has been widely circulated that some of the Contractors opt to surrender the project back to JKR, the implementation and supervision body, to recall for tenders.
The balance Contractors choose to soldier on. Now they are faced with another man-made obstacle - that of robotic project management.
JKR as the implementation and supervision body has adapted a rigid approach in handling this project. For them, everything is pure and simple. If a Contractor delays by more than 60 days, they will issue a recommendation for the Contractor to be terminated. Fullstop. However, what JKR failed to realise or choose to ignore is the weather condition in Malaysia.
Being a purely infrastructure project ie highway and bridges construction, JKR will surely understands that roadworks just could not proceed during raining season when then grounds are wet. Choosing to ignore the weather condition will land Contractors in bigger trouble ie stranded machineries, idling manpower, poor compaction, site flooding and others.
What is confusing is the way JKR is acting. Is this a failsafe mode to avoid finger pointing if ECH is delayed? Or is this the way of the "new" JKR - producing robotic project managers?
Although the completion period is targetted in 2011, it seems that majority of the Contractors are opting to surrender the project. Why?
Some bats are squeeking that collectively, the Contractors has submitted to JKR on the cost implication due to fuel pricing and reinforcement bars. It is understood that the Contractors are requesting JKR to study their proposal on price variation. It is further understood that the implementing agency agree that the price increase is reasonable BUT there are hidden hands working very hard to get the Contractors terminated so that new Contractors can be appointed. It is also widely believed that the hidden hands are looking at new Contract price which is much higher that the revised price quoted by the Contractors. Is this true?
Some Contractors choose to opt for an easy way out by surrendering the project before 31st December 2009. In this way, their firms will not be black-listed as this is deemed to be mutual termination. The question is - why is the robotic project management so inhumane and strictly follow the guidelines regardless of the fact that it was raining rains and cats in November and December? Will these robots accept shoddy workmanship due to adverse weather? Isn't there such thing as Extension of Time due to inclement weather?
The best part is - there are genuine efforts by some to rope in the ex-MB's service to convince KL that the Contractors should be given a chance to complete their works. It is also understood that a meeting on this nature was held early this week in the east coast.
The question is - Do this ex-MB still has the bite? Afterall, he has fallen from grace and accussed of being the ringleader against the present MB. Will his reasonings be heard in KL?
AAB talked on human capital. Najib wants to build his 1M theme of "Rakyat didahulukan, prestasi diutamakan". Then why are we subjected to robotic project management in ECH? Where is the "rakyat didahulukan" when efforts are being made to fleece more money from ECH? Do we need to engage new Contractors for ECH? New Contractors or more "toll"?
Frankly, this scribe looks forward to travelling on ECH right up to Kelantan. If not Kelantan, Terengganu will do. Is it necessary to delay ECH for the benefits of the few "hidden hands"?
I believe the present Contractors can perform and complete the job. The question is - is JKR willing, is the Government obliging? If the price variations submitted is too high, isn't JKR as the implementing agency has the right professionals within the organisation to counter-propose? Or, is everything in the hands of EPU who do not know the difference between earth and sand to dictate the project?
In short, this is what happen when financial decisions are made by those who are devoid of the necessary expertise.
Maybe, 2010 will be another booming season for the "hidden hands" whilst the ECH Contractors will suffer from their losses...is anybody listening?


Till then...G'nite M'sia...wherever u are...